YOUTH (12-17) REGISTRATION- Set Free – SOUTH REGION 2022 Eparchy of OLOL MYO Regional Retreat
February 25, 2022

-

February 28, 2022

$175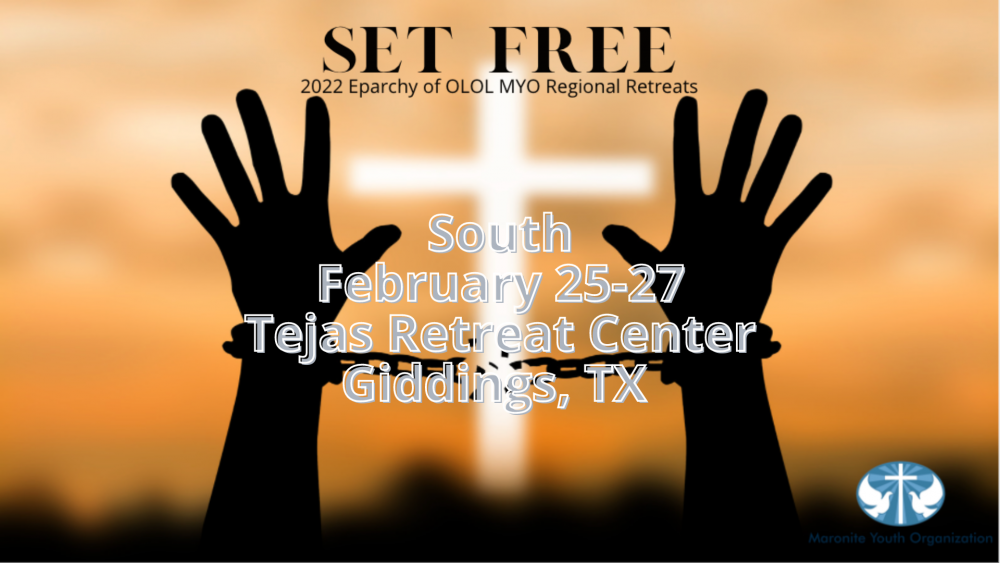 MYO South Youth! We would like to invite you to our 2022 Regional Retreat! Please register below for this weekend of hope and excitement as we come together to pray and reconnect IN PERSON and allow the Holy Spirit to work in our lives!
Dates: February 25-27, 2022
Cost: $175
If you have any questions or issues registering, please reach out to your advisor, or email us at office@maroniteyouth.org!
Please note linens are NOT PROVIDED. Each participant must bring their own bed linens and towels for the weekend.
All registrations must be completed by February 4, 2022. Payment must be submitted to your head advisor or parish office by this date. Payments must arrive to the MYO Office no later than February 11, 2022.
In addition: either proof of completed COVID-19 vaccination series or a negative COVID-19 PCR test completed 96 hours (4 days) prior to the event are required to be shown on the day of the event.
Mailing Address:
MYO Office
Re: 2022 Southwest Regional
11935 Bellfort Village Drive
Houston, TX 77031
PLEASE NOTE- THIS REGISTRATION IS FOR YOUTH! IF YOU ARE AN ADULT ATTENDEE, PLEASE CLICK HERE TO REGISTER.